Hi friends, I hope you're having a wonderful spring so far!  We've had a little bit of everything this spring–warm sunny days in the 70s followed by snow the very next day!  At least we know summer is on its way!
If you follow me on Instagram and Pinterest you've probably notice that I've been adding more and more blue to my decorating mix, and that simple change has made a world of difference in the overall mood and style of our home.  I'm finding that decorating with navy blue lends a clean, crisp air to every space.  I think it's the perfect way to update your home for spring!
Believe it or not, I used to shy away from using blue in my home décor.  In fact, I don't think we had a speck of blue in our house until about a year and a half ago!  For some reason, I thought of it as old fashioned.  But once I started decorating with blue–particularly navy blue–I just couldn't stop!
Not only does navy coordinate beautifully with the white and green I already have in abundance, I'm discovering it looks gorgeous with gold or brass accents.  Add a pop of pink, or even tangerine, and you've got something really special!
The thing I love about navy is that it coordinates with and enhances nearly every decorating style.  This is great for me, since my decorating tends to consist of an eclectic mix of all the styles!
Whether you choose to just add a few navy accents here and there, or completely change the tone and style of your home, I highly recommend taking the plunge and incorporating some beautiful navy into your living spaces this spring!  A few ideas to get you started:
Spring Home Inspiration:  Decorating with Navy Blue
Instantly update your living room simply by adding a few navy throw pillows to your current mix–the ones shown below were a gift, but I believe they came from Home Goods.  I love how well the blue pairs with deep green, as well as the gold in this lamp.
I'm also loving this navy velvet pillow from Hobby Lobby.  I have several of them scattered everywhere, including in our master bedroom.  I think they're only available in stores, but here's something similar from Etsy.
Decorating with navy is as easy as can be with a beautiful throw draped ever-so-casually over a couch, chair or bed.  This blue and white beauty is from Nordstrom.
Adding a few accent pieces here and there is another great low-commitment way to incorporate navy into your home décor.  Blue and white ginger jars add a touch of classic elegance to any spot they adorn–and they look so beautiful when paired with pink or green!  Here's a selection of ginger jars similar to the ones below.
Even a simple blue bowl, like this one from Anthropologie, can add beauty to a kitchen counter.
Consider adding a piece of navy furniture to your home.  This little cabinet used to be black, but once I painted it in dark blue, it became the focal point of our entryway.
Rugs are one of my favorite ways to decorate with navy.  A bright pop of indigo on the floor like this easy-care rug I found at Target, adds a warm and welcoming touch to your home.  And look how prettily it pairs with pink!
My navy blue and white ikat-print curtains, from Overstock, are one of my favorite additions to our home.  They add so much personality to our dining room!
How about low-commitment peel and stick Wall Pops trellis wallpaper? This is one decorating decision I've never regretted.  But if I did, I could just peel it right off the wall!
There's no better place to incorporate fresh, calming shades of blue than the bedroom.  I just love this crisp blue and white linen bedding from Restoration Hardware!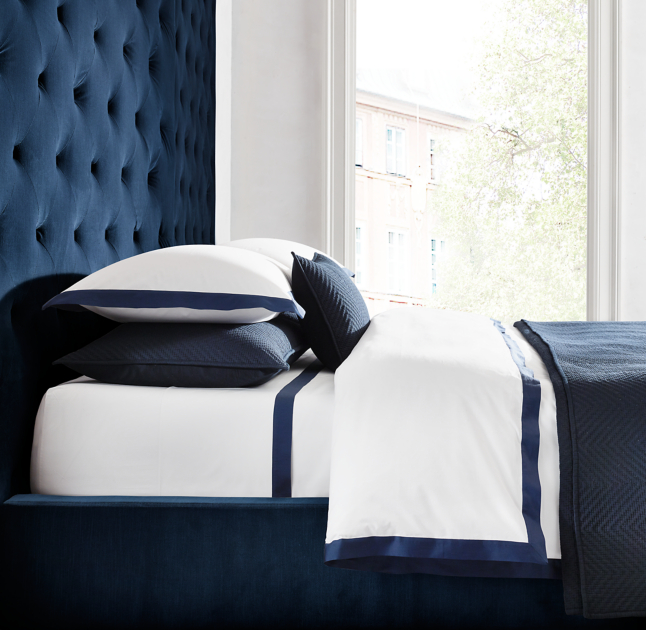 And don't forget the bathroom–how about adding beautiful navy towels to the bath?  Just seeing them on display will brighten your day!
If you really want to go all-out, how about incorporating navy cabinetry into your kitchen, as in this beautiful design by Brittany Makes?
Or as a dramatic back splash?  Love this so much!  By Theresa Rowe Interiors.
Another great way to incorporate navy into your design is through an accent wall.  Here's a beautiful example by Bree at Z Design at Home:
As you can see, the sky's the limit when it comes to decorating with navy, so go for it!  I think you'll find, as I have, that you simply can't go wrong with this classic, versatile hue.
xo jane